Located in the far southwestern corner of Utah, St. George is well positioned for accessing some of the state's most incredible terrain, especially when it comes to hiking. Many of the best hikes around St. George are found in the nearby Snow Canyon State Park. This little gem has all the punch of a national park without all the people. Snow Canyon is hardly known by tourists from out of state, but it's a favorite with locals. Hikes in this incredibly scenic park offer a true variety of sights and experiences, from lava tubes to slot canyons. Trails here are generally short, but many of them interlink and are easy to combine to form longer trails.
The Santa Clara River Reserve is another popular area for hiking and mountain biking but relatively unheard of outside of St. George and the surrounding towns. Also worth investigating are hiking opportunities in Red Cliffs Recreation Area. If you have time for a longer day trip, just over an hour away are the hiking trails of Zion National Park.
1 Petrified Dunes Trail, Snow Canyon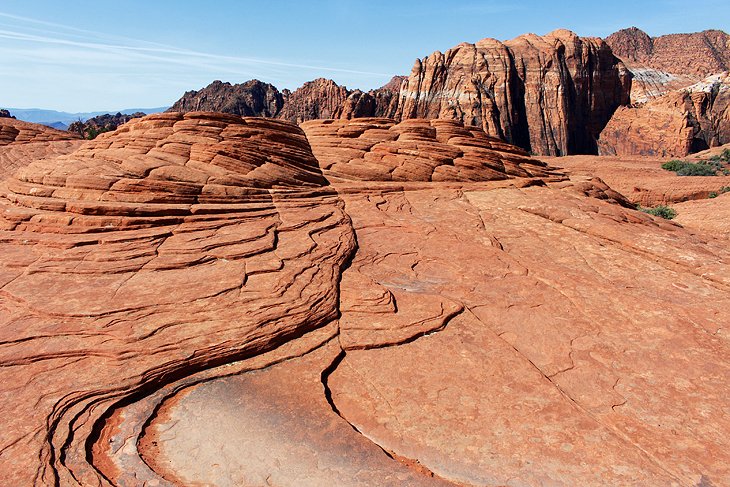 Petrified Dunes Trail is arguably the most enjoyable hike in the St. George area, and one that is popular with all ages and abilities. Wide-open rolling rock hills covered with curving ridges stretch out in all directions, just begging to be explored. There is no truly defined trail for much of the route, just a field of wavy petrified sand dunes that delivers a sense of freedom. Kids can run up and down the hillsides and along gently sloping ridges. Views across the valley to the sheer cliff walls and mountains are outstanding. Photographers will find no end of inspiration, with curving lines; beehive shaped mountains; and, if recent rains have left water in some of the pools, circular ponds that provide additional shapes and reflections.
The total distance for this hike is 1.2 miles for the return trip, but you may find you don't do the entire hike, or you may end up walking much further to gain different vantage points along the way.