As you approach the drive to the Cove Wash Trailhead, you may be thinking that this doesn't look like much of an area for hiking, but continue on and you won't be disappointed. The views out the back side of the parking area reveal a beautiful mix of rolling hills and mountains. In the spring, the wildflowers can be spectacular. The trails head out across flat terrain and then offer options to walk along a ridge or descend into the valley below.
The Cove Wash Trailhead is located in Santa Clara and is a little tricky to find. Heading north on West Sunset Boulevard, turn left on Gates Lane, just before the Jacob Hamblin Home. This street begins as a paved road and then curves right, but you need to keep going straight onto the dirt road in front of you. The road climbs up a hill at the start. Further along this dirt road, a sign indicates the way to Cove Wash Trailhead.
9 Yellow Knolls Trail, Red Cliffs Recreation Area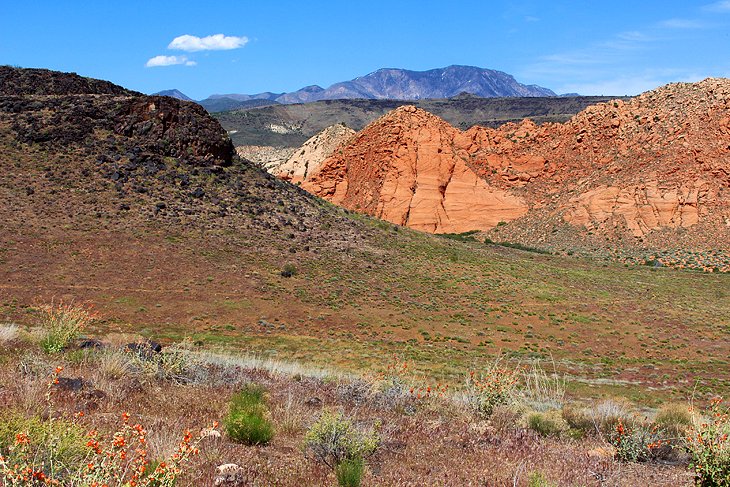 As the name suggests, the main attractions of this hike are the rolling yellow rock hills, but the entire hike is pleasant. Located in the Red Cliffs Desert Reserve just north of St. George, this is a 3.8-mile out-and-back hike. From the parking area, the trail heads out across a field that is covered with wildflowers in spring, towards a red rock mountain. Just a hint of yellow can be seen in behind. The trail descends into a valley and curves around this first mountain, taking you out onto the yellow stone, where you can explore the open rock landscape. This is the highlight of the hike, but the trail continues on, ascending to a high point for a view over the surrounding hills and rock formations.