The Pacific Crest National Scenic Trail (PCT) is a 2,600-mile contiguous hiking trail that stretches from the border of California and Mexico to the border of Washington and Canada, traversing the most rugged environments found on the western coastal states. The trail crosses through 26 national forests, seven national parks, five state parks, and four national monuments, not to mention the entire John Muir Trail of Central California. It's easy to understand why each year, hundreds of hikers start at either border and attempt to "thru-hike" the entire PCT in one six-month window.
For those who can't take six months off work, or are a little trepid of continuous backcountry trekking, there are still ways to enjoy the PCT, either through backpacking smaller sections of the trail or hopping on one of the great day hiking options listed below. Hiker beware, though, once you find yourself standing on the PCT, and you feel it stretch out in either direction across the entire country, it may be hard to get it out of your mind until you've explored the whole trail.
Eagle Rock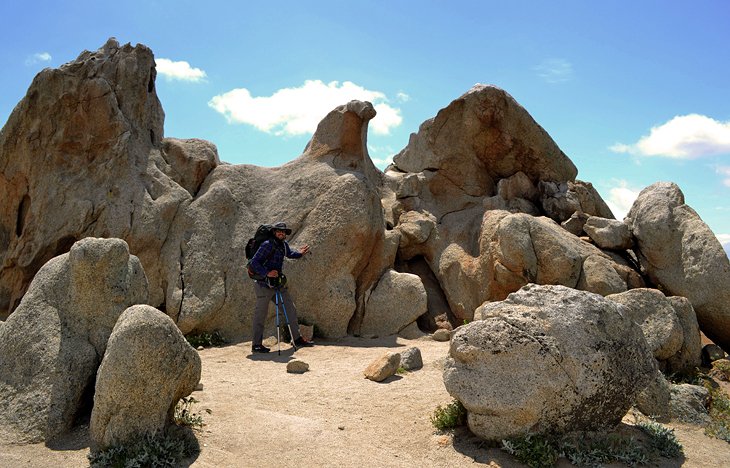 The Southern California portion of the PCT extends seven hundred miles through arid landscapes filled with twisted chaparral and few water breaks, and while this formidable terrain is often a challenge for thru-hikers and day-trotters alike, the Southern California section of the PCT has many highlights of its own. No better example of that can be found than the aptly-named Eagle Rock, just over 100 miles north of the Southern Terminus of the PCT.
If you are looking to make a day hike to Eagle Rock, all it takes is a 6.5-mile round-trip starting from Highway 7 near the Warner Springs fire station. Follow the PCT markers from the road, as the trail bends alongside the Canada Verde Creek and ravine for the first half of the trip before continuing through arid grasslands and sparse vegetation until you reach the unmistakable geological icon that is Eagle Rock. Tackle this trail between March and May, before many of the thru-hikers will be found in the area, and there is a good chance you'll stumble across a stunning display of wildflowers blooming along the path.