Standing as the tallest summit in the contiguous United States, the Mount Whitney peak is the southern terminus for the JMT, and is a much-taken, alternate route for the PCT. To hike to the top of this bucket-list peak in a day, you won't spend much of any time on the actual PCT, and instead tackle it from the other side of the mountain, from the Whitney Portal, after obtaining a much sought-after permit. Accomplish this 22-mile, round-trip however, gaining over 6,000 feet as you climb to the top, and you'll get the most concentrated taste of the physical demands it takes to tackle the PCT found anywhere else along the trail.
Tuolumne Meadows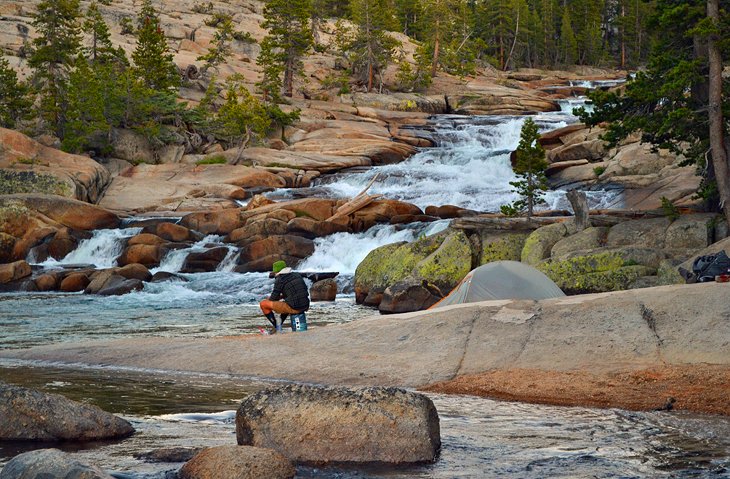 While Yosemite National Park marks some of the busiest places you can find on the PCT, there is a reason why this national park is so popular. To get a taste of the high-mountain splendor that is Yosemite, you can hop on the PCT starting from the Tuolumne Meadows Campgrounds, near the eastern Highway 120 entrance to the park, and head north alongside the Tuolumne River as it carves its way through the granite-infused scenery.
The cascading rapids of the Tuolumne River eventually lead hikers to the gushing Tuolumne and White Cascade Falls four miles down the trail, lending for a great photo opportunity and turnaround point on a fantastic day hike. For those with an early start or looking to camp overnight, the Glen Aulin High Sierra Camp is roughly six miles north of the Tuolumne Meadows Campground on the PCT and provides cabin accommodations and an unworldly location to soak in your Yosemite National Park experience.