On the shores and mountains that ring the sparkling blue waters and turquoise bays of Lake Tahoe, hiking trails lead to peaks, waterfalls, inland lakes, meadows, and lookouts. Views over the lake on a sunny day are astounding. In the spring, the snow-capped peaks stand out sharply on the horizon; in the summer, the wildflowers light up the trails; and in the fall, the leaves glow a brilliant yellow, contrasting with the deep green of the pines.
Many of the best hikes are found on the southwest shore, near the city of South Lake Tahoe. Here, you'll find trails for all abilities. Hikes running along the lake offer beautiful scenery, with little elevation gain and level terrain. These are favorites with families. For hikers looking to reach new heights, challenging summit trails offer jaw-dropping panoramic views. And, for a little peace and quiet, away from the large crowds, the Desolation Wilderness, just inland from Lake Tahoe, offers a mix of trails that take hikers into the rugged backcountry.
Rubicon Trail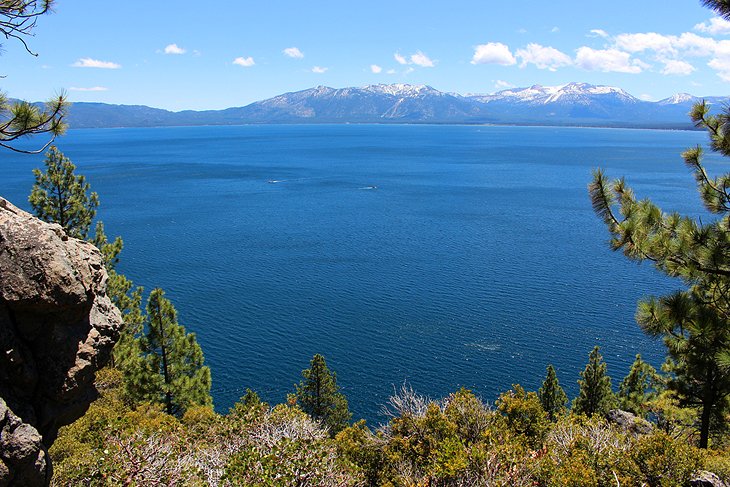 Running alongside and above the shore of Lake Tahoe from D.L. Bliss to Eagle Point on Emerald Bay, the Rubicon Trail offers spectacular views of the cobalt blue lake; the distant mountains; and the shallow, aquamarine-colored bays. The trail hugs a ridge high above the water for much of the way.
You can do this either as a round-trip eight-mile hike, or a four-mile one-way hike if you park a car at the far end to shuttle you back to the start. The direction of travel doesn't really matter. If you are only doing this trail in one direction and shuttling, the views are a bit better heading from D. L. Bliss to Eagle Point, but this direction has a slight elevation gain. You will have to pay to park at D.L. Bliss but on a busy day, when it's difficult to find a parking spot, this may be a better option.