Eagle Falls to Eagle Lake Hike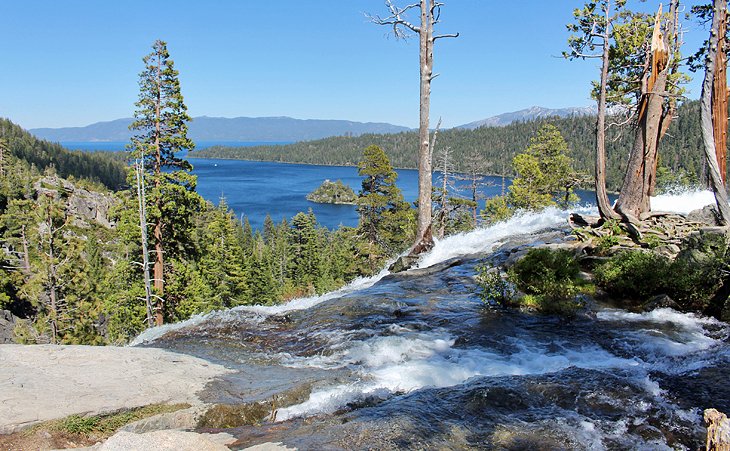 The Eagle Lake Trail, beginning at the spectacular Eagle Falls, has several options for trail length. A good choice is the scenic trail to Eagle Lake. This is one of the most popular hikes on the southwest shore of Lake Tahoe and frequently busy, but it's definitely worth doing if you can find parking. Eagle Falls is essentially right off the highway, requiring only a short stroll to reach the edge of the falls. The hike to Eagle Lake is a steady climb, ascending just over 400 feet in elevation in the span of a little less than a mile, but the reward is worth the effort. This glacier-formed lake lies at the base of surrounding mountains, which reflect the mirror image in the calm waters. The water is crystal clear, and the shoreline is shallow. On a hot day, you can wade in to cool off.
The round-trip hike to Eagle Lake is approximately 2.5 miles. The main problem with this hike is parking, which is extremely limited, considering the number of people who visit this area. On a weekend, getting a parking spot is a matter of luck. Many people stop simply to see Eagle Falls, so there is some turn through, but your best bet is to get there early.