North Cascades National Park is one of the most rugged national parks in Washington State, if not the entire country. It's not just the dramatic ridgelines punctuated by glaciers that make it hard to inhabit, but more than 90 percent of its 500,000 acres are designated as the Stephen Mather Wilderness and remain completely wild with little, if any, development. Don't be discouraged to explore this dense natural environment, however. In combination with the Ross Lake and Lake Chelan National Recreation Areas, the North Cascades National Park Complex has some of the best hiking trails in Washington State, and the big views will linger for a lifetime.
Cascade Pass Trail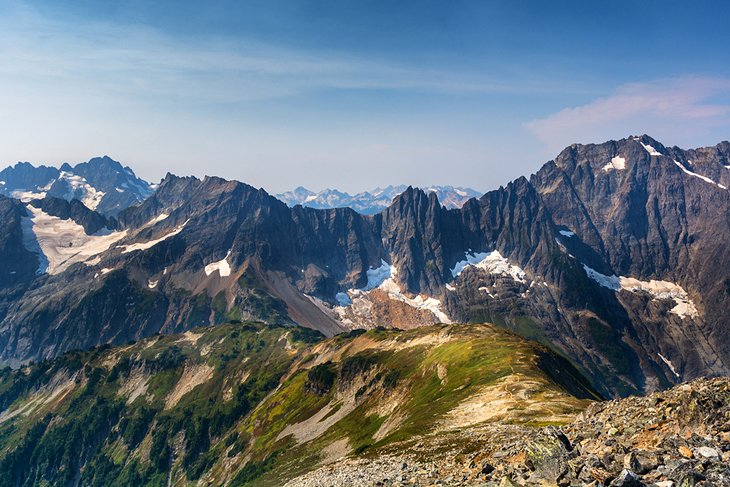 The Cascade Pass Trail is one of the most popular hiking trails in North Cascades National Park. While the relative low grade attracts plenty of interest, as well as the scenic Cascade River Road that leads to the trailhead, it's the stunning views waiting at the pass that give this trail its notoriety. Well before the North Cascades became a designated national park, Cascade Pass had been traversed by Native Americans and early fur traders. Back then, the 3.7-mile trail, with well-engineered switchbacks, wasn't as modern, but the views at the top remain the same.
Featuring dramatic panoramas of the Johannesburg ridgeline, including Mixup Peak and Magic Mountain, with the impressive Cache Col Glacier sandwiched between them, there's no shortage of impressive views from Cascade Pass. For a more adventurous day out or overnight experience, hikers can continue beyond Cascade Pass and onto the Sahale Arm trail to the Sahale Glacier or stay on the same trail to hike into Horseshoe Basin or the mountain community of Stehekin more than 20 miles away.