You don't even need to leave the city limits to enjoy beautiful hikes around Phoenix. Looking out over the city from some of the high ridges, you can see the entire metropolitan area, including many of the well-known rock formations, like those in Papago Park, as well as Camelback Mountain and Pinnacle Peak. The high points are definitely some of the most popular hiking destinations, but you can also find easy trails that meander through the beautiful landscape of the Sonoran Desert. Walking among the saguaros or blooming wildflowers brings its own type of serenity and awe. Whether you are looking for an easy walking trail or a heart-pumping hike up a mountain, you'll find it here on our list of the top hikes in Phoenix.
Tom's Thumb Trail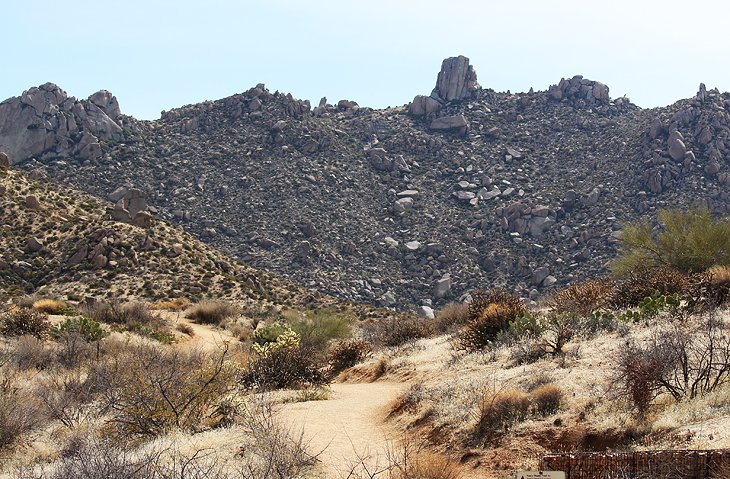 From the trailhead and surrounding area, this hike looks intimidating. Tom's Thumb can be seen projecting from the ridge far above, and the rubbly hillside of the mountain looks harsh. Once you start traversing the switchbacks and reach a point high enough to see off into the distance, it's easy to be distracted by the views rather than your exertion level. And the reward is worth the effort for the incredible vista from the top and a close-up look at Tom's Thumb. You'll also find small caves to explore up here.
Done as an out-and-back hike, this trail is 4.2 miles in total, with an elevation of approximately 1,000 feet. If you want to seriously challenge yourself, you can combine this with the East End Loop for a more than 11-mile hike, and at least twice the overall elevation gain. Set out early in the day before the heat sets in. At the trailhead is a completely overbuilt facility, with restrooms, a large covered outdoor area, and information.