Mormon Loop Trail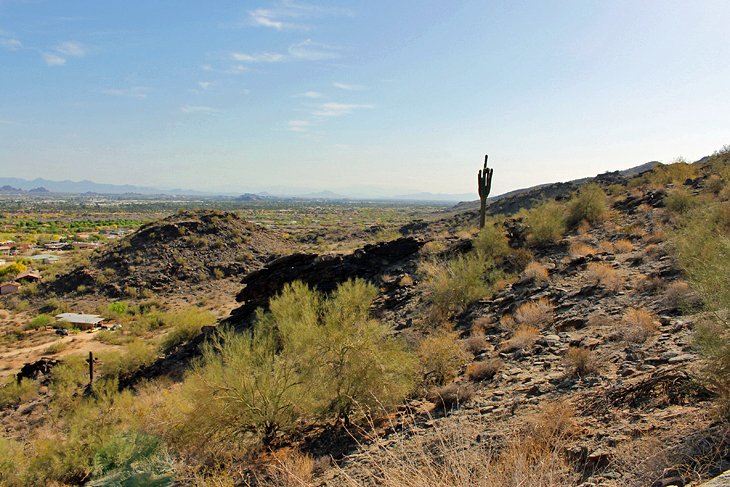 Another easy-to-reach city hike is the Mormon Trail or the more extended hike, the Mormon Loop Trail. The Mormon Trail is a 1.2-mile, in-and-out hike with a little over 700 feet of elevation. The trail climbs steadily from the parking lot as it makes its way up to a ridge. As you ascend, you can look out over Phoenix and see some of the cities signature natural features, including the rock buttes of Papago Park, the easy to recognize Camelback Mountain, and Piestewa Peak. Mormon Trail joins up with the Mormon Loop Trail. If you choose to do the loop, the total hike is 4.7 miles, and the elevation gain is over 1,150 feet. You can see some saguaro at the higher elevations, as well as ocotillo and other desert scrub, and of course, fabulous views out over the city and beyond to the Superstition Mountains.
Camelback Mountain, Echo Trail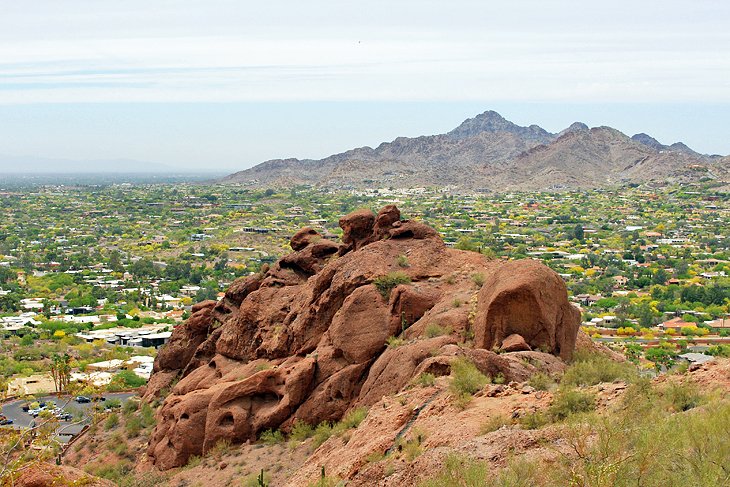 This short but scenic trail in Scottsdale is the most famous hike in the Phoenix area and absurdly popular. It's also much more difficult than it first sounds. It's only 1.2 miles to the summit but has an elevation gain of almost 1,300 feet, and is notorious for wreaking havoc on hikers. This is a trail for experienced hikers. It's steep and has sections where you will definitely be using your hands and feet. Handrails run up the steepest sections, but that doesn't make it any less challenging and often adds congestion to sections of the hike.