The first section is a reasonable hike up to a saddle. From the saddle are beautiful views in both directions out over the city and along the steep walls of Camelback Mountain. If you aren't up for the challenge of the full hike, this is a good place to turn around. The next section follows a wall up a set of stairs, and the last section is a steep climb up rocks. A handrail runs up through this section to help hikers. It's often congested, and many hikers simply climb up the rock using all fours.
Echo Trail is rated as extremely difficult and there are warning signs at the start about heat, exertion, and falling. This trail often has the most rescues per year of any hike in a metropolitan area in the United States, and sometimes the highest number of deaths. A park ranger is now always stationed at the bottom of the trail to warn hikers about the level of difficulty to expect, so people know what they're getting into.
Piestewa Peak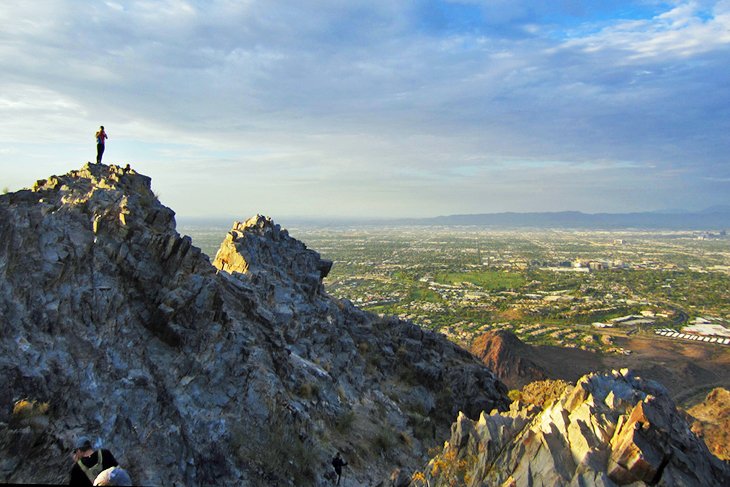 Piestewa Peak is located almost in the center of Phoenix and can be seen from almost all areas of the city. As a result, the hiking trail to the summit is very popular, so be prepared for big crowds of walkers, hikers, and trail runners of all shapes and sizes. If you have the energy and strength to make the 1.9-mile trip to the top, gaining 1,200 feet of elevation on the way, you'll be rewarded with a 360-degree view. Sights include Camelback, Superstition, and White Tanks Mountains, along with the red hills of Papago Park. The trail is well developed with handrails in certain sections to help with the substantial number of stairs. You should be prepared for a series of knee-jarring steps down on your return trip. Parking for the trail is limited, so be sure to arrive early in the day.